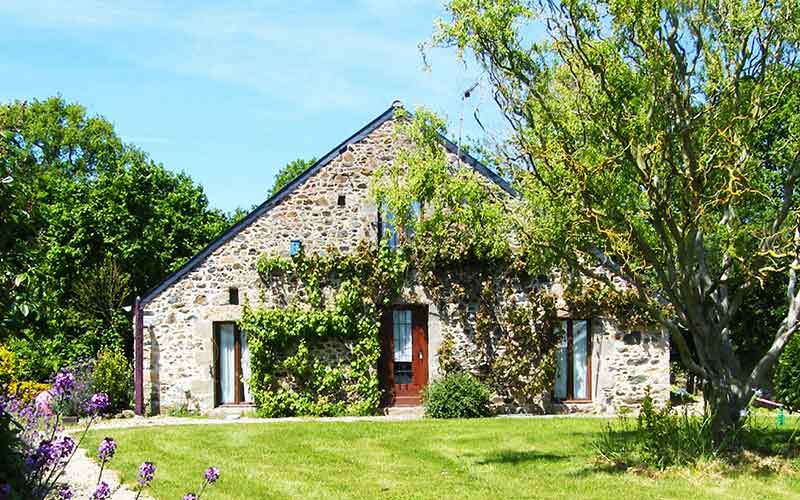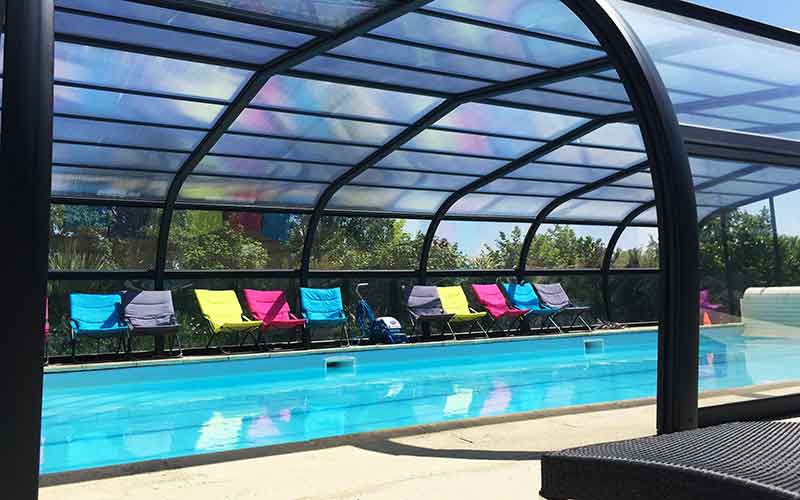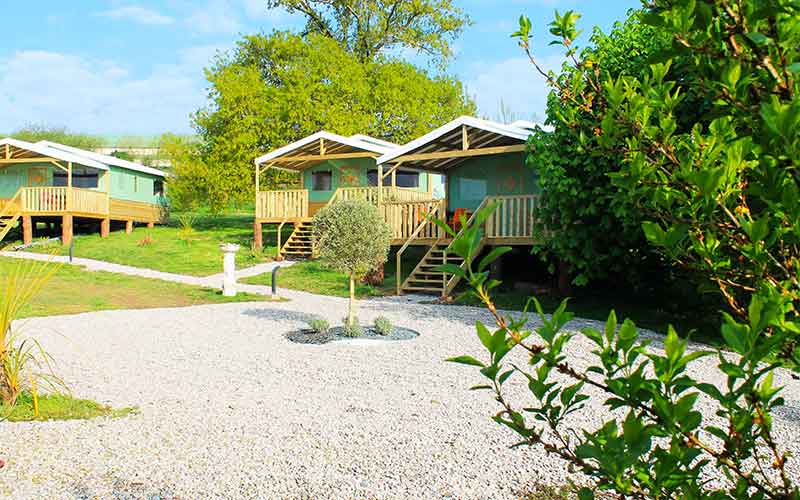 Emerald Coast Gites in Brittany
Family friendly gites, 15 minutes from beaches
Covered Heated Swimming Pools
Family holidays in Brittany, France, have never been so easy.  If you are planning a holiday to France, then look no further. Emerald Coast Gites is a cluster of stylish holiday cottages with pools,'Gites de Charme', and lodges, set on an old farm in Brittany. Close enough to the Brittany coastline and other French tourist sites but far enough away from it all to have a family getaway in France where you can relax, unwind and recharge.
In the grounds of the gites are heated swimming pools, an onsite bar offering food options and plenty of areas to relax and unwind.  For the kids there are 
play areas including a soft play, ride-ons, trampoline, football goals and even a zipline
, so why not let the children explore and play whilst you relax with a Kir Royale. 
Emerald Coast Gites is a cluster of 7 stylish self catering 'Gites de Charme' in Brittany and 3 luxury glamping lodges.  Situated in Cotes d'Armor, France. 10 minutes from the most amazing beaches, medieval towns, chateaux, walks and many more tourist attractions and places.
We specialise in family holidays and holidays with babies and toddlers.  With play areas and heated swimming pools – we have everything you could want for a relaxing and fun family holiday with your baby, toddler or children.
Anyone who loves France and enjoys unspoilt countryside, beautiful villages, French gastronomy, seafood anda magnificent coastline with long sandy beaches will fall in love with Brittany and our gites. We are 10 minutes from the coast, 30 minutes from Dinan, 45 minutes from St Malo, 1hr from the UNESCO World Heritage site of Mont St Michel and many more places worth visiting are within a short drive.
Your Hosts
The Willis family bought La Touche when it was a disused farm, spent 2 years renovating the buildings and have been running Emerald Coast Gites now for 16 years. Still passionate about giving people the best holiday they can, they live onsite and are always on hand to help.
About us
Lesley used to work for a bank in the City of London and now runs the business.  She has a keen interest in interior design and is also pretty good in the kitchen!  Simon still works in education and is a massive Arsenal fan, still travelling back for matches when he can.  Simon runs the bar, and has over the years, perfected the art of Espresso Martinis!
Sam and Evie, their children, have grown up at La Touche and are now 17 and 19.  Evie is doing her Baccaulereate and Sam is at Uni.  They now help out a bit and offer babysitting and help with the children's activities (when they aren't at school). Lots of the little children idolise Sam when they see his prowess at the Parents' and Kids' football matches.
They also count Frosty & Pepsi as part of their family. Frosty is a little white fluffy dog who loves everyone! Pepsi is an Aussie Shepherd – she's gorgeous and still learning to behave but we are getting there.
Lesley, Simon, Sam & Evie,
Lesley and Simon have created an amazing little jewel in the Emerald Coast! Great facilities, hospitaility, food and location. Almost want to stop telling my friends in case it gets booked up! 
Discover
Cottages & Lodges
Something for everyone, from large and spacious, to small and cosy; from fun and funky to romantic and chic…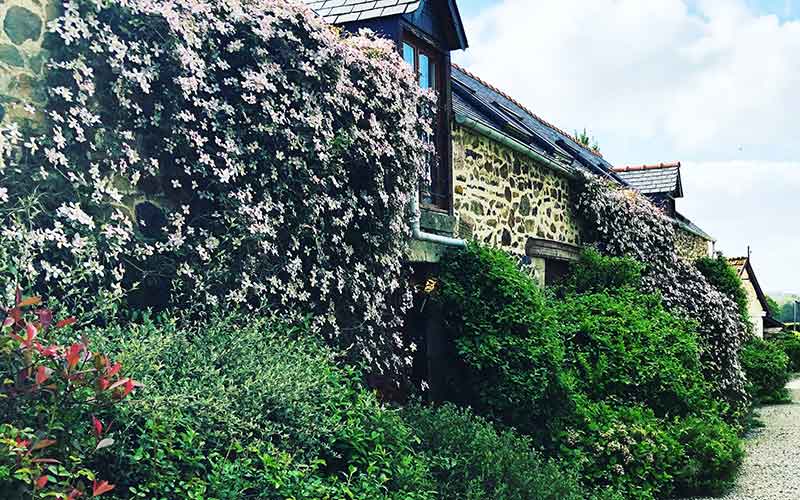 Number One La Vieille Grange
2 bedroom gite suitable for families and friends
Open plan kithchen, living and dining room
One double bedroom with antique furniture
One twin bedroom
One modern bathroom
Garden with BBQ and furniture to the rear
Price range per week
€700-2200
Daily bread and patisserie delivery
Fresh croissant, pain au chocolat and warm baguette are among the items that are delivered every morning by the local boulangerie. Just order in the bar the night before.
Available from Easter to end October.
Bar service
Our onsite private bar offers Happy Hour everyday between 6-7pm. 
In high/peak season a full bar service is offered everyday after 6pm. Bar is open at Easter, then from 24th May to mid September, October half term on demand.  In low season, the bar is not available or is run as an honesty bar.
Speciality cocktails offered by Simon.
Food service
In high and peak season we do some soirees on several nights of the week, Galette and Crepe night, Brioche Burgers, Moules Frites, Fruit de Mer, Salades gourmandes and in winter, Tartiflette.  In low season, the meals are not available. We also offer food at Easter and October half term.
Frozen childrens' meals
We have a freezer where Lesley and Simon have prepared and frozen lots of different childrens' meals for your convenience.  Such as sausage casserole, spanish chicken, spaghetti bolognaise and fish pie.
Welcome platters
Charcuterie, Fromage or a mixed charcuterie platter are avaialble on request.  This will be left in your fridge and comes with bread, butter and other pickles/chutneys
Emerald Coast Gites is a wonderful place to go for a holiday! We thoroughly enjoyed our time there (so much so that we booked for next year while still there on holiday this year!). Lesley, Simon and family are very hospitable and the facilities are spot on for families with children of all ages.
This was our first visit to the emerald coast and Brittany. Based on the reviews of Lesley and Simon's place we thought this would be perfect for us and we were not disappointed. As all the reviews say, it is a perfect location to discover the area, the gites are lovely and they have thought of everything to keep young ones and the grown ups happy. It truly is a special place which we will be returning to. One week was not enough!!!
This is our 5th year returning to Emerald Coast Gites. The reason we keep going back are the whole family comes away feeling like we've had a holiday. As a parent to young children, holidays have often felt it's the same stuff to deal with just a different location, making sure the kids stay safe/don't wander off – usual parent stuff. Lesley and Simon have created a safe, fun environment where kids have freedom and parents can relax. Plus, there's a bar! And the location is perfect – so many beautiful beaches and places (fort, castle, towns, etc) to visit. Wholeheartedly recommend this place, and Lesley, Simon and their children are just lovely
We had an absolutely brilliant week here in July – it couldn't have been more comfortable and convenient. Really near to lots of lovely beaches and great places for days out, and the hosts go to real effort to provide for guests – freshly baked pastries in the morning, home cooked meal service, frozen home cooked meals always available for the kids, and a proper bar service too. The kids loved the grounds, with all the play areas, pool and animals roaming around. We will definitely be back – thank you for a lovely holiday!
Words cant describe what a sanctuary Lesley and Simon, Evie and Sam have created here in France. They have thought of everything you could possibly want / need. Kids make friends for life and roamed free. Very safe and Lodges and Gites are beautiful spaces each with their own charm and style. It's a home away from home without any of the hard work! The local area has something for everyone and Lesley can give you her knowledge of good restaurants, surf schools, beaches etc etc. This is the most perfect holiday ever! Go try it out for your self! I guarantee you will love it!
As a family we rarely return to the same holiday venue twice, but we've just arrived home after our 5th visit to Emerald Coast Gites! Such a beautiful part of the world: gorgeous beaches and so much for the kids to do. Lesley and Simon are wonderful hosts, and it's fantastic to spend an evening relaxing in the onsite bar whilst the kids safely play and make new friends. Can't recommend this place enough.
Have a Question?
Talk to the Host
La Touche, Henansal, 22400, Côtes-d'Armor, France
emeraldcoastgites@gmail.com